How Automation Tools for Financial Processes Reduce Risk, Ensure Compliance

In this video, Cam Sessinger, Dynamics Communities Editor, Dynamics Communities, explains how financial automation tools help reduce risk and assist businesses in staying compliant with regulatory obligations.
This episode is sponsored by Summit North America, the largest independent gathering of the Microsoft Business Applications ecosystem, taking place Oct. 15-20, 2023, in Charlotte, North Carolina. Register today to connect with thousands of users across the Microsoft business applications ecosystem at the for user, by user event.
Highlights
00:13 — This video is sponsored by Avalara and their new guidebook, "How Communication and Collaboration Strengthen Compliance for Dynamics 365 Financial Automation Processes," which is now available on dynamicscommunities.com.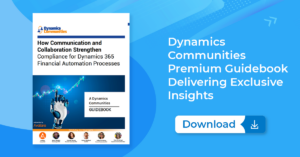 00:34 — The efficiencies that can occur when automating financial processes are no secret. Another benefit of automation tools is that, when applied to financial processes, they help reduce risk. Rules, regulations, and compliance as it relates to tax and regulatory obligations vary throughout the country and across the world, oftentimes changing very quickly.
00:58 — Fortunately, the right tools for navigating the constantly evolving regulatory landscape exist, and many of the tools from Avalara integrate directly with a Dynamics 365 ERP. Automation tools can help address economic challenges, reallocate human resources, help to promote new levels of growth, and reduce the complexities of e-invoicing. All of this helps to reduce risk. Automated solutions for e-invoicing, such as Avalara E-Invoicing and Live Reporting, for example, help ease the burden of staying compliant amidst evolving regulatory requirements.
01:42 — The power of automation gives users the ability to shift their focus and resources toward more critical tasks that can increase revenue, drive profits, and enable growth. However, it's important to have the right tools and the right partner. Avalara is a leader in tax compliance, with a suite of automated solutions that are trusted by some of the world's most successful companies. Even better, Avalara tools work in the system you already use.
---