Visualize Dynamics 365 CRM Data in Kanban View or Mind Map View for easy Data Analysis!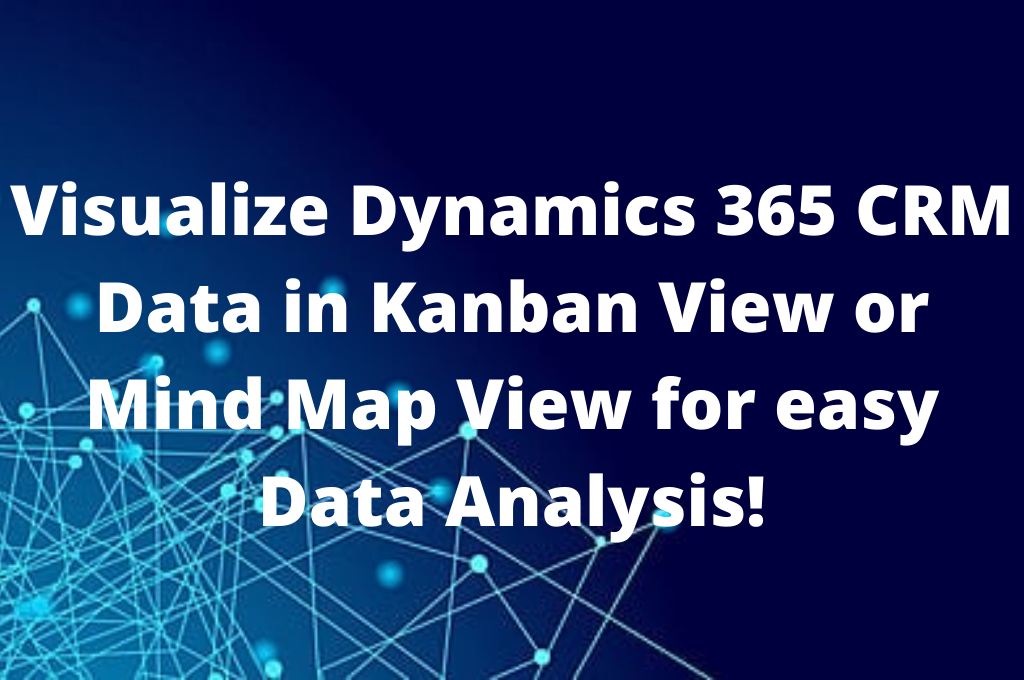 Visual representation gets 90% more views than text-based information. As visualization makes it quicker and easier to understand any given data, we prefer dashboards, infographics, charts and graphs to written text. And keeping this thought in mind, we have brought to you two amazing visualization apps for Dynamics 365 CRM/Dataverse (Power Apps) – Kanban Board & Map My Relationships.
Kanban Board:
Kanban means 'Sign board'. Kanban Board is mostly used to keep track of on-going projects and assignments. Now, if you are tired of looking at the same old Grid view in Dynamics 365 CRM then you can get this very Kanban view by using Kanban Board – a preferred app on Microsoft AppSource. With this app, you can visualize the Dynamics 365 CRM data in Kanban view by categorizing the entity records in lanes and rows as per their status, priority or Business Process Flow stages.
Some of the key highlights of this product are;
Easy Configuration across Devices: Kanban Board can be configured for Web, Mobiles and Tablets for unified experience. It is quite easy to switch devices from desktop or laptops to tablets or mobiles. This eliminates the mobility issues that causes hindrance to work while switching from one device to another.
Visualize Views: With Kanban Board, you can visualize any CRM View as lanes as in a Kanban View. You can further organize and categorize records of a given entity in Kanban view as per the Business Process Flow defined for that entity. This comes handy to track the progress of various projects assigned to your team as it categorizes the ongoing tasks according to their status.
Easy Data Analysis: Analyzing data will become much easier with Kanban Board. Sorting records at global level, filtering data, searching specific records, viewing aggregate values of records in lane or row headers are some of the interesting features of Kanban Board that enables to quickly and swiftly analyze data.
User Friendly: Kanban Board comes with simple and effective features such as drag & drop ability to move cards (records) from one lane to another, creating quick activity records, etc.It works in context of the native Dynamics 365 CRM environment & responds to all native ribbon actions as well as the quick search available for traditional views.
Map My Relationships:
There are numerous connections and relations between Dynamics 365 CRM records. And it is difficult to track them by navigating from one record to another. But now, with Map May Relationships – a preferred app on Microsoft AppSource – you can visualize connections and relationships between entities or related records in a Mind Map view. Simply put, without navigating from one entity to another, you can glimpse all the related entities in a single view.
Some of the key highlights of this product are;
360-degree View of CRM Data: Normal grid view of CRM data is quite difficult to analyze. With Map My Relationships, you get a 360-degree view of entire Relationships & Connections of Dynamic 365 CRM records. This mind map view of relationships and connections makes it easier to reach information-based decisions in the nick of time.
Easy Configuration across Devices: Map My Relationships can be configured for Web, Mobiles and Tablets for unified experience. This allows great mobility and removes restrictions when it comes to usage of various devices. Place, time and device are no hindrance for mapping relationships and connections in Dynamics 365 CRM.
Information at a Glance: A quick summary of each record within the relationship map is made available for ready reference. Further, it provides information of associated entity records in N-level relationships and helps to identify different connection roles through use of different color legends. This eliminates the need to dig around for information and saves valuable time.
The future lies in Data Visualization. Data Visualization apps have become integral part of business processes. Efficient, effective and capable apps that offers data visualization capabilities is what you need to succeed in future.
Mail us at crm@inogic.com to book a slot for a walkthrough on how our Visualization apps assists in accelerating productivity and maximizing ROI. Also, click here to check out our other amazing productivity apps for Dynamics 365 CRM / Dataverse (Power Apps).