Setup Alerts and Notify your users of important events using Alerts4Dynamics with Dynamics 365 CRM!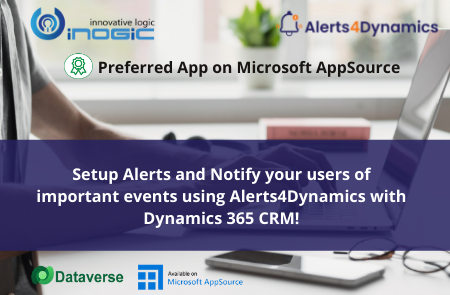 Reminders & Notifications have become part and parcel of our daily lives. So, wouldn't it be beneficial to have an app exclusively for managing alerts & notifications in Dynamics 365 CRM?
If you think so, we will reacquaint you with our preferred app on Microsoft AppSource for managing alerts – Alerts4Dynamics. Be it notifying your team about overdue payments, reminding them about monthly targets or making announcements about upcoming sales event – all of this is possible with Alerts4Dynamics.
You could achieve the following with Alerts4Dynamics:
Create and Manage Alerts for OOB as well as Custom Entities in Dynamics 365 CRM
Create and manage three types of Alerts i.e. Announcement, Rule-Based and Record-Based Alerts
Send Alerts through Email to team members or use Pop-ups and Form Notifications to alert them
Categorize Alerts as Information, Warning and Critical depending upon the level of importance
Keep track of Alerts read and dismissed by team members through log details available in the Notification section
Configure Alerts to be displayed to a particular set of team members or as per their level of security privileges
View Alerts through Notifications button on a ribbon from anywhere in Dynamics 365 CRM
In this way, Alerts4Dynamics ensures that you get the right information at the right time without any delay. As time is of essence for every business organization, it never hurts to have the right tool that keeps you updated and well informed. This will also remarkably help in planning and developing new strategies to increase the sales and ROI.
With such amazing features, it is right to say that Alerts4Dynamics is tailor-made to suit all your needs and expectations.
So what are you waiting for! Download and explore Alert4Dynamics from our Website or Microsoft AppSource for 15 days of a FREE trial.
And feel free to share your queries and feedback at crm@inogic.com
It's time to remain Alert!