Real-Time Tracking of Field Reps, Advanced Territory Management et al – Start exploring new features of Maps integration with Dynamics 365 CRM!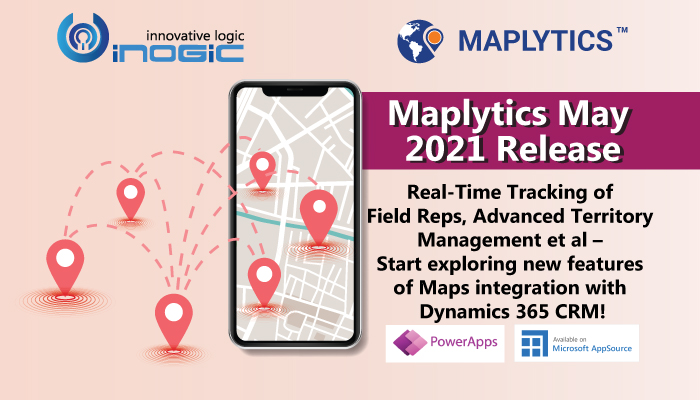 Maplytics – the #1 geo-analytical app, seamlessly integrates Maps with Dynamics 365 CRM / Dataverse (PowerApps) Data. Maplytics enhances the Dynamics 365 user's abilities by allowing them to use locational data for different activities like plotting and analyzing their CRM data on a map, categorizing the records, extracting locational insights, pinpointing customers and competitors, and creating information driven strategies.
Moreover, you can perform actions like Appointment planning, Route optimization, Radius search, etc. to execute and align your efforts with strategies to get targeted outputs!
Team Maplytics had recently rolled out yet another Maplytics Update with advanced features like Real-time tracking for field reps, Advance Territory assignment on defined rules and conditions, Land area visualization, enhancements in Detail Map & Check-in feature, and much more.
So now it's time to upgrade your favourite Maps integration app with the new May 2021 release.
Let's have a glance at what we have added in the box with this release:
Real-Time Tracking: Track the location of field reps in real-time.
Territory Assignment Rule: Create your own rules to assign territories to the required records as per the set conditions.
Land Area Mapping: Visualize the area of agricultural, residential, commercial properties, etc. on the map.
Enhancement in Check-in: Keep an eye on the history or important findings in the meetings of the field team with the clients.
Enhancements in Detail Map control: Save/Print route, open existing route on the Detail map control from the 'Directions' card.
Enhancements in Territory Visualization: Visualize multi-level territories on map.
With all these features, your geo-mapping is sure to reach new heights. We are ecstatic for you to explore the new features and notch up your locational intelligence. Download this new version of Maplytics from our website for a free trial period of 15 days. You can also head over to Microsoft AppSource, check the 5 star Maplytics reviews and Preferred Solution badge before deciding to hit the download button.