No more cherry picking – Automate Assignment of Leads/Cases in Dynamics 365 CRM!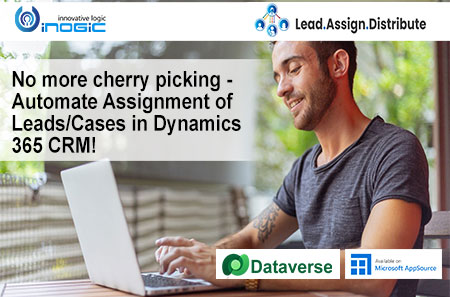 Satisfied customers means successful business. And it all starts with Leads. But clients are easily lost due to mismanagement of Leads in Dynamics 365 CRM. Do you also find yourself facing the same problem? Then stop worrying because we are here with the ultimate solution – Lead Assignment and Distribution Automation.
A Preferred app on Microsoft AppSource – Lead Assignment and Distribution Automation is a productivity app that allocates or distributes Leads (or any other entity records) recorded in Dynamics 365 CRM. This app will ensure fair distribution of workload (Leads/Cases) among users by honoring their individual capacity. And there will be no more instances of mismanagement or cherry picking of Leads.
Key features of Lead Assignment and Distribution Automation:
Round Robin: Distribute Leads evenly among the team in a sequential pattern using Round Robin Algorithm
Capacity: Assign Leads depending upon the individual capacity of each user
Time-Based Assignment Model: Assign maximum number of leads to sales reps on daily, weekly or monthly basis.
Assignment Rules: Create multiple assignment rules for different selection criteria of the Leads
Order: Set order for executing assignment rules to allot & distribute Leads as per your requirement
Sequence: Set sequence of your choice based on which Leads will be assigned to the users
Dashboards: Monitor and analyze the number of Leads assigned to each team member with the help of Dashboards
With these amazing features Lead Assignment Distribution & Automation ensures that your day-to-day tasks are carried out effortlessly, thereby improving the overall performance of your team and team members.
A handy app to have, isn't it?
You can now download this handy app from our website or Microsoft AppSource and get first-hand experience of these amazing features.
Also, check out our set of 1 Click productivity apps for Dynamics 365 CRM/Power Apps.
For any automation queries or personal demo, feel free to contact us at crm@inogic.com.