AP Automation – The Better Mousetrap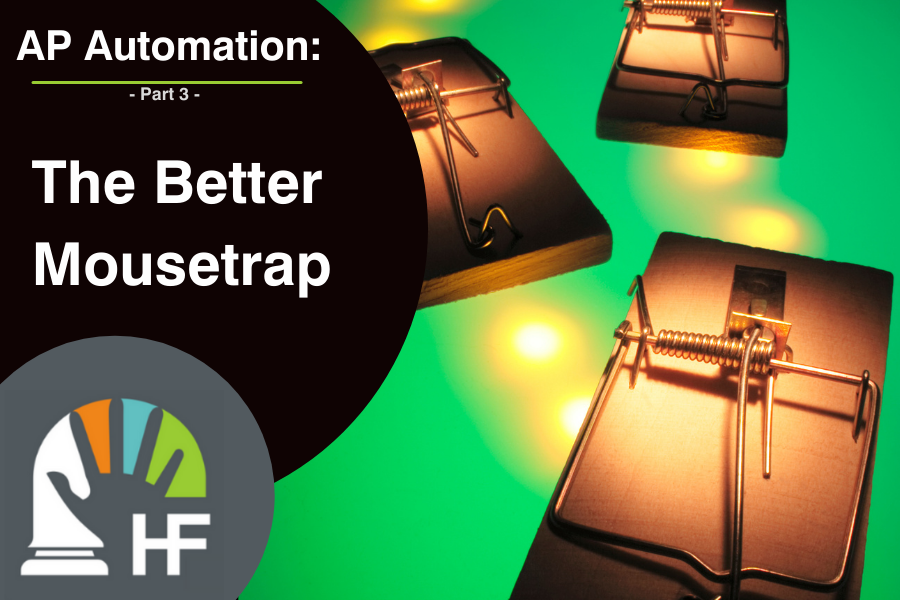 In our previous blog, AP Automation – The Good, the Bad, and the Very Ugly, we discussed the fact that the success of existing AP Automation solutions was good because it proved the usefulness of data capture and automation for the ERP market.
However, the primary focus of that blog was to point out how these products have become bloated, expensive, and lacking in flexibility. Of course, just pointing out those issues makes on a complainer unless you have a better solution.
That better mousetrap is the focus of this blog.
To understand the beauty and simplicity of the HandsFreeERP solution, you have to look under the hood of existing AP Automation solutions. Hidden beneath extraneous functionality such as workflow and document management, is the black box where all the magic happens. The engine that reads and captures data from physical and electronic documents and moves it into your ERP application with the intervention of manual typing is doing all of the heavy lifting.
The secret of the AP Automation solutions in the market is that they don't create those engines on their own. The AP Automation vendors use data capture and automation engines built by a small number of companies specializing in that sophisticated software. The AP Automation vendors just add a bunch of overhead that makes the software more expensive and harder to implement and use.
So what is the answer?
The incredibly elegant solution is to strip off all of the duplicate functionality that existing AP Automation solutions insist on selling and provide just the stripped-down data capture and automation tool.
Here are the key benefits:
If you are happy with the functionality provided by your core ERP software and just want to speed up data entry while making it more accurate, then you don't have to spend money on unwanted duplicate functionality.
Ease of use. Why learn a new workflow or document management application when you don't need it or are perfectly happy with the ones that exist in your current ERP software?
Want to automate customer orders? Or any other document-intensive process for your business or industry? With the data capture and automation tool at your disposal, you are not locked into AP Automation exclusively.
Are you switching ERP software? No problem, just upgrade the connector and your investment is safe to pick up and go.
That simple solution provides all of the key benefits of data capture and automation without the additional cost, overhead, or limitations.
HandsFreeERP data capture and automation is that magic solution.
Our next blog, Beyond AP Automation – The Customer Order Revolution, discusses the most exciting "standard" workflow to increase customer satisfaction and get money in your bank faster: Beyond A/P Invoices – Customer Order Automation – In an Amazon World.
Peter Joeckel, President of TurnOnDynamics, a Microsoft Dynamics consultancy specializing in providing senior functional and technical resources for Microsoft Dynamics ERP.
TurnOnDynamics is the premier implementation and integration partner for HandsFreeERP data capture and automation solutions for Microsoft Dynamics ERP clients.