8 Ways Cloud ERP Reduces Risk for Companies
Cloud-based ERP solutions come with a host of benefits: They're scalable and flexible, and team members can easily access information from anywhere at any time.
But perhaps the biggest draw of the cloud is risk mitigation – from supporting compliance and providing top-notch security measures to strengthening resiliency and agility during disruption.
Operational and financial risks have true costs for businesses – costs that you can mitigate with the right ERP solution.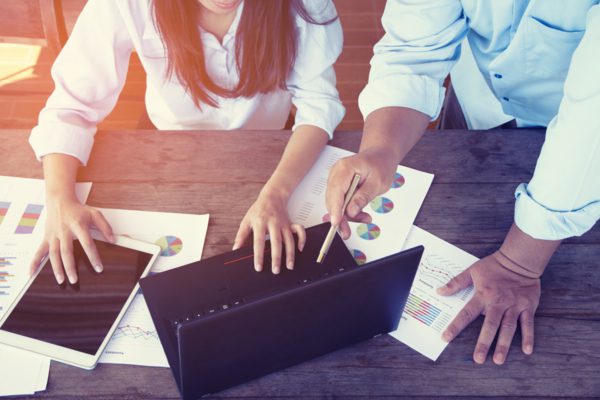 Here are eight risks that cloud ERP can minimize:
Compliance violations
Compliance is critical in many industries, such as food and beverage and medical device manufacturing, as it ensures the health and safety of the end-user. Through data monitoring and gaining real-time access to information for audits, enterprises can move from reactive to proactive.
Careful management of allergens, for example, is important in the food and beverage industry. Manufacturers must closely manage and track allergens in the production process to avoid cross-contamination, label properly and meet the expectations of customers, consumers and regulators.
An industry-specific, cloud-based ERP solution streamlines and simplifies those efforts to remain compliant, reducing the risk of fines or even being shut down for non-compliance. Real-time data collection and traceability from source to consumer allows for speedier and more efficient resolution to problems, minimizing risks throughout the supply chain.
Poor decision-making
The past several years highlighted the importance of being able to make quick, informed business decisions, as conditions changed day to day. Unfortunately, many businesses continue to rely primarily on historical data, making them reactive at best. In addition, siloed data throughout the organization can be duplicate, inconsistent or incorrect.
With a cloud ERP, you can break down those siloes for better visibility and make faster – and better – business decisions based on accurate, up-to-date data. You'll also reduce the time spent searching for the right information; stay ahead of potential disruptions; and increase customer satisfaction by acting quickly to changes in demand and the market.
Production downtime
With an ERP integrated with Internet of Things (IoT) technology, you gain tremendous visibility over production. Sensors on equipment can monitor the condition of production equipment and other assets, detect maintenance needs, and suggest or predictive maintenance – before problems result in downtime.
IoT supported by AI can also provide:
Optimal maintenance schedules with real-time data
Ability to check production status remotely
Alerts if a machine shifts in efficiency by any degree
Real-time, automatically updated metrics about orders
Precise quality control, detecting irregularities in temperature, humidity and more
Supply chain disruption
Supply chain disruption has hit every industry hard over the past year, driving a lack of visibility, operational disruptions and growing customer dissatisfaction.
Cloud-based, intelligent solutions such as Microsoft's Supply Chain Insights combine the power of artificial intelligence with your real-time data to alert your team to potential challenges in the supply chain from the gathering of raw material to the delivery of the final product to your end-user.
Additional benefits of Microsoft cloud-based tools for supply chain management that mitigate risk include:
More effective and seamless collaboration for both internal and external teams, such as your suppliers or distributors.
A real-time overview of operations that can be accessed remotely from anywhere at any time.
Meeting customer demands and needs faster.
Opportunity to create digital twins of your supply chain to work through what-ifs.
Risk reduction through scenario planning.
Security breaches
One of the biggest benefits of the cloud is strong security measures. Prevent unauthorized access to your information and monitor malicious activity with a cloud ERP solution.
While you still have to have a proactive plan for security in your organization, when you opt for a Microsoft ERP solution specifically, your data is protected by multiple layers of security in a state-of-the-art data center. Because they're subject to scrutiny under ISO 27001, they have to follow hundreds of guidelines on how a cloud service provider should manage its infrastructure, which means you can rest easy knowing your sensitive data is protected. In addition, Microsoft has a team of close to 4,000 global cybersecurity experts, detecting threats and protecting your assets and information.
Human errors
It happens: People make mistakes. Documents get sent to the wrong coworker. Typos make their way into databases and contracts. But these errors, no matter how small they seem, can have far-reaching – and expensive – consequences. Consider Citigroup. In 2020, a clerical error lead to almost $1 billion being sent to the wrong lender, who won't give the money back.
Human errors can affect all parts of your operations, from accounts payable to inventory management. A modern cloud ERP solution automates or simplifies many tasks that previously took days to execute. Supporting solutions provide more ways to automate previously tedious workflows. For example, Microsoft Power Automation is a low-code way to streamline workflows across your organization by handling repetitive administrative and data-entry tasks, reducing the potential for these mistakes to occur, while also improving the efficiency and effectiveness of your team.
IT team dependency
One of the best ways to reduce IT team reliance is to systematize work processes. If done correctly, systemization can prove to be a great way of mitigating key personnel-related risks. It also ensures that procedures remain up to date. When documented in a cloud ERP system, processes can be reviewed objectively, and any risks or inadequacies that may have been hidden can be addressed accordingly.
Cloud-based ERP solutions are also evergreen, which reduces the reliance on IT teams to manage large updates and allow them to focus on more strategic IT challenges. With Microsoft products, users receive automatic monthly bug fixes, with major updates occurring a few times a year.
Another way to reduce the risk of IT personnel dependency is to partner with a reliable Microsoft provider to help manage the maintenance of your ERP solution, which also allows your internal team to focus on what they do best.
Disaster
Research from 2021 reveals that downtime can cost enterprises millions of dollars, with 91% saying that a single hour of downtime averages more than $300,000 in lost business, disruptions to productivity and remediation efforts.
From cyberattacks and prolonged electrical outages to a server room flooding, disasters can come in many shapes and sizes, both natural and manmade. In the case of disaster or shutdown, your cloud ERP can be set up with end-to-end backup and recovery capabilities. No lost data. No expensive and detrimental downtime.
To learn more about cloud migration and implementation – and how a cloud ERP solution can reduce risk in your enterprise – reach out today.