Announcing deFacto Tabular Modeler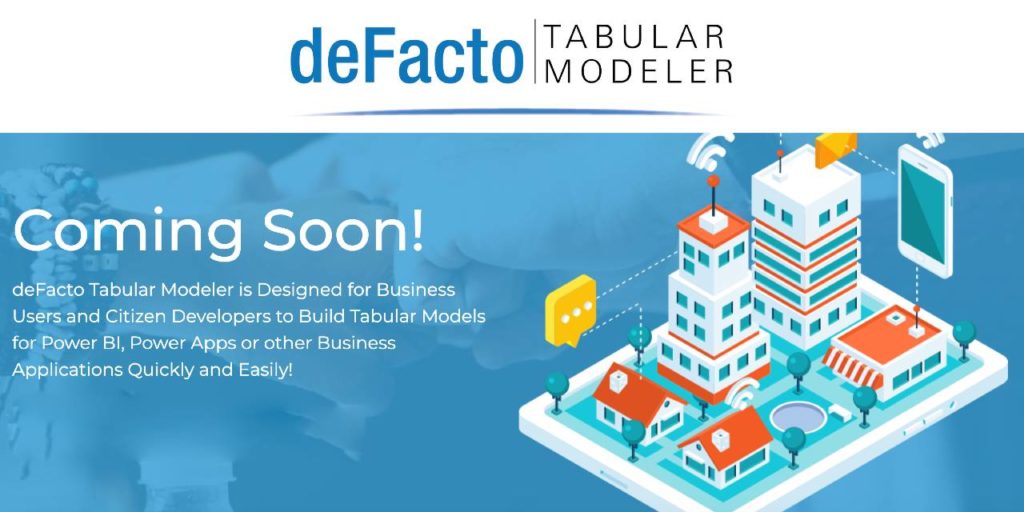 Building SQL (SSAS) Tabular Models typically requires the use of tools designed for developers, like Visual Studio. In general, that presents a challenge to users like business analysts, Power BI developers or citizen developers. In addition, making improvements to tabular models like adding hierarchies to any dimension, or adding financial intelligence to models, adds another layer of difficulty to the process. deFacto Tabular Modeler changes all of that. Business users and citizen developers can quickly and easily create any type of tabular model, from simple to complex, that can be used with Power BI, Power Apps and other applications that cover the full range of financial and business operations.
How does it work? Once deFacto Tabular Modeler is installed, a tabular model is built by using an easy to use, drag and drop dimension manager where dimensions can be combined into the tabular model. Next, data can be loaded directly to the model through the Data Load interface via .xlsx or .csv files. Finally, if further calculations are needed, Custom Measures can be created via deFacto Tabular Modeler's interface using DAX.
The deFacto Tabular Modeler has Admin and Report Consumer user types. Security can be set-up for each named user at both the data and functional level. Admin users have access to all features of the deFacto Tabular Modeler, while Report Consumers are subject to the security levels specified by the Admin.
Once the tabular model is built, data is loaded and security is configured, reports can be created and deployed using Power BI, Power Apps, Pivot Tables, Excel or any other tool that can consume SSAS tabular data. For financial reporting applications, deFacto Tabular Modeler has a high degree of 'financial intelligence'. Using its special Account dimension, it automatically understands how to handle general ledger accounting data to always display the proper balances and reporting signs. Combined with custom account hierarchies, you can easily report and analyze data across multiple chart of accounts.
That's it! Use the form below to sign up to be the first to know about the release of deFacto Tabular Modeler!