Rexel opts for "diamond" logistics with Generix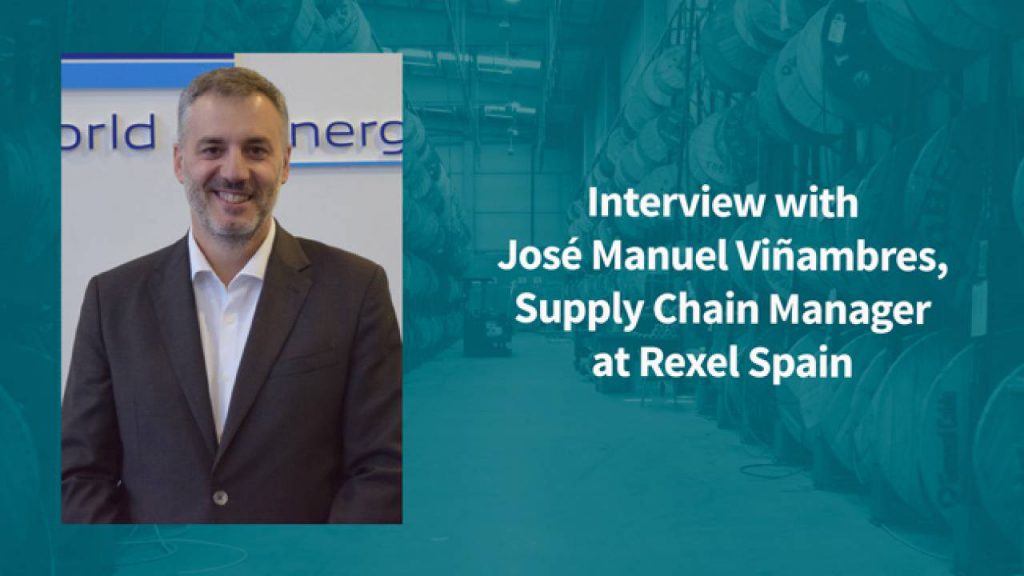 Interview with José Manuel Viñambres, Supply Chain Manager at Rexel Spain
Can you explain what the "diamond" distribution strategy is and why you have adopted it?
We can say that we adopted this distribution strategy in response to the complexity and fragmentation of the market. We are a company with wide coverage in Spain where we started with centralized distribution from a single warehouse and we have decided to evolve towards a logistics network, a 'diamond' structure in which we have four regional distribution centers in our network.
In principle, what we are going to achieve with these regional warehouses is to provide coverage in time and form to our own branches which, as they have an optimal distance for our logistics, are the ones that allow us to cover, especially in D+0, the solutions that our customers require.
With the diamond structure we are, of course, looking for proximity to the customer, but also digitalization and specialization, which are Rexel's big bets. The Transformation Plan, as our CEO Marc Schoettel says, offers our customers a proposal based on specialisation through professional and personalized advice, digitalization, with an omnichannel commercial approach, offering convenience to our customers and, finally, proximity and intimacy to customers and suppliers, with individualized service levels.
In short, to be closer to the customer
Yes, that's right. Focusing on the customer is one of Rexel's strategies and why we have embarked on this transformation journey. Responding to the immediate needs of the customer is the ultimate reason why we have established a challenging road map and why we have looked for tools capable of responding to this transformation.
How has Rexel evolved to the leading position it is in today?
We are the international leader in electrical distribution and solutions. We have a turnover of 13.74BN of euros. We are present in 26 countries, we have 27,000 employees and here, in Spain, we started many years ago not only as Rexel but also as the result of the merger of several companies. All this has led us to position ourselves within the TOP 5 of distribution in Spain.
Rexel offers a complex service, from the effective and complete realization of a construction project, to the retail to a professional at each point of sale.
We have segmented the market into three large blocks: residential, industrial and commercial, which in reality requires us to have complex logistics that allow us to respond to each of the needs of each block or segment in a different way.
Proximity allows us to cover the residential segment through our points of sale. Our network of engineers, of personnel specialized in projects, what we know as level three and level two, cover the other two segments, commercial and industrial.
We deliver turnkey projects that rely on such logistics. Logistics, in the end, are the result of adapting to our customer's needs and at Rexel we have adapted to those needs and to each of those markets.
In order to achieve this digitalization, have you relied, among other advantages, on the traceability provided by the Generix WMS solution?
Indeed, one of the principles that this new transformation seeks is, as I said, digitalization and, of course, traceability, the so-called 'track and trace' that we are all looking for. These systems allow us to have transparent, visible and online information which, in turn, allows us to respond to what the customer needs. Basically, this traceability with systems such as the Generix WMS allows us to incorporate this information into our ERP which, in turn, is the heart of information for our customers. This way, we integrate not only the systems but also the processes and, most especially, we integrate the people, our internal customers, who are the ones who determine our capacity to respond to external customers.
So does the WMS integrate with the ERP you currently use?
That's right. As part of this transformation in which we are immersed, we are also undergoing a change of ERP. This required, above all, Supply Chain systems suitable for this integration. The decision has been to go for a WMS in SaaS mode, in the cloud, which allows us to minimize the risks of the classic server platforms and, in this sense, the Generix WMS we have selected responds to this need.
Another solution you have implemented in your digitization process is the Generix TMS which offers you route optimization. What other advantages does it bring you?
Yes, that's right. Route optimization is another of the requirements we have, but not only that, but especially the control capacity you have over the business, process optimization, quality improvement… you also have control over all the transport documentation and, obviously, if you add to that the functionality that traceability gives you, we can make analyses that improve not only the routes but also the processes.
Even administrative processes, right?
Especially the administrative ones. Nowadays we are more focused on being efficient, on seeking excellence, and not repeating processes from other centuries. Efficiency is achieved through three pillars: people, processes and systems.
Changing processes alone does not achieve efficiency. You have to count on people and make them see that efficiency improvement is a fact. Moreover, at Rexel we are focused on data, which in the end is the key to being able to make correct analyses and subsequently provide solutions.
Do you focus on data to stand out and differentiate yourselves?
We think so. Rexel, as a group, is focusing above all on what is known as Big Data. We are developing data analysis departments that allow us to implement predictability methods that, in the supply chain, are already a reality. We are able to create algorithms that indicate potential errors with customers, and we believe that this is the future of logistics.
Our transformation is towards a data-driven company, which guarantees an easy, smooth and individualized customer experience. For our customers on-time delivery is a priority, differentiation is generated through transparency in the process, and for this a powerful TMS like Generix is key.
The logistics market is changing rapidly and radically, which way do you see it evolving?
In my opinion, once we have overcome the "must" of seeking excellence, the effort is to make good use of the huge amount of data available to companies, which is the key to differentiating yourself from the competition. This is what we are working on. Rexel is not only investing in Supply Chain, but in the needs of our customers. We are distributors, we owe it to a commercial department, but we are applying all these improvements in data analysis to obtain predictive methods that allow us, among other things, to anticipate and know what kind of mistakes we can make with a customer in order to avoid them or solve them in time. That is why systems that allow us to use fast and efficient quality control methods are essential to us.
Are the new standards that are visible not only to professionals but also to end consumers the big challenge for a distribution with a level of power like yours?
Yes, I believe that these new standards are set by the consumers themselves. As a B2B company, we want to respond to the needs of our customers as if they were end consumers. We have to raise the level of demands we have on ourselves and be in a position to be leaders in the future so that, in any situation, we can respond in a flexible, agile and fast way. Rexel is looking to be an easy company to deal with for everything, especially for our customers, but not only for them, but also for our employees and suppliers.
Why did you choose Generix?
Multinationals like Rexel are also looking for solvent business partners with a response capacity in line with the needs of the future we were considering and the transformation ahead of us.
Full integration is key to complete a transformation such as the one we are developing. In this sense, we see our commitment to systems and established partners such as Generix as a guarantee for the future. Generix has allowed us to integrate its Supply Chain tools into our ERP and logistics processes and to do so in a very satisfactory way.
Generix offers us a product and services that have already been tested in the market; in fact, suffice it to say that they are already on Gartner's magic quadrant. From there, it is true that their flexibility and the good work of the team they have in Spain convinced us to make this decision, especially the flexibility in terms of the timescales that were very challenging for our project and, above all, the enthusiasm with which they sold us the idea of achieving a good result.