Cloud Migration: Inside the Pivot with Solver QuickStart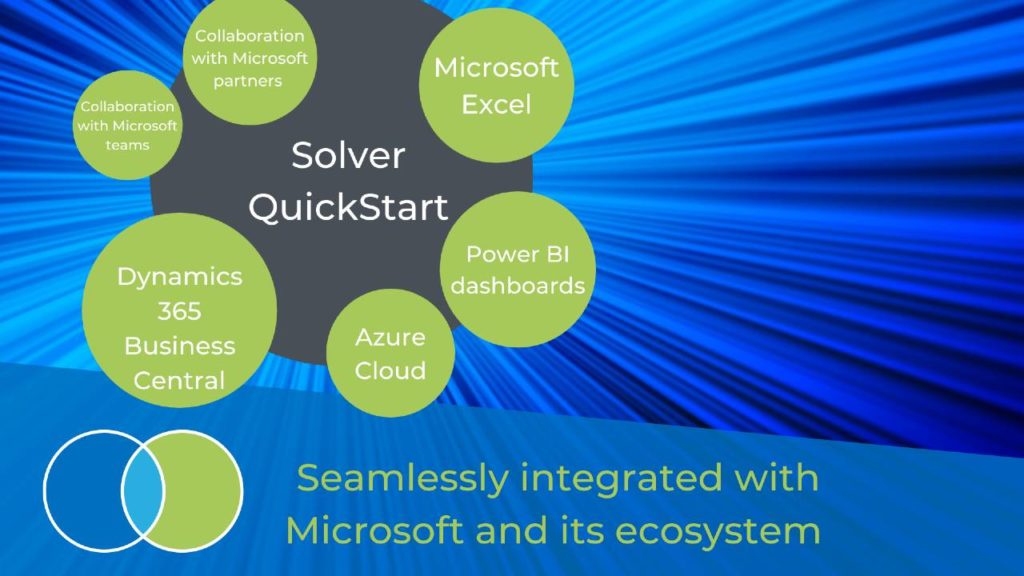 The Challenge
An increasing number of companies have migrated or plan to migrate to the cloud as part of their business and investment strategies. To achieve success in their migration efforts, organizations are looking to deeply understand the necessary best practices, tools, and team skillsets.
Leveraging the cloud comes with its own set of capabilities, risks, and possibilities, therefore the pivot must be considered from a distinct mindset. Traditional methodologies and processes used in on-premise ecosystems, will not necessarily serve cloud ecosystems. Additionally, knowing when to pivot, what to pivot, and how to pivot are essential questions for thorough determining alignment with company capacity and goals.
The fundamental core of every business is its financial health. This is why a company's ERP (Enterprise Resource Planning) application is a critical component of the overall technology stack. Coupling an ERP solution such as Dynamics 365 Business Central with the power of the cloud creates an efficacious combination. However, with extensive data inputs, strategic data-driven decisions can be challenging and impend organizational bottom lines.
The Questions To Ask
With the implementation of an ERP system such as Business Central and when migrating from an on-premise system, three core questions should be asked when it comes to reporting and planning.
How do we become data ready and approach moving off-premise?

What is the timeline for implementation?

When should critical decisions be made?
Data Readiness and Approach
Data is the foundation of any application and it is no different for cloud applications. However, there are key considerations to consider when managing the data for an upcoming cloud migration.
Many companies struggle with data cleanliness when faced with a major migration project. But, this is an opportunity to examine the data and initiate a data cleansing process. As part of this process, consider these tasks:
Archive old data

following any compliance or regulatory requirements that may exist for your company or industry.

By archiving old data, you can lessen the volume of data that needs to be reviewed and ultimately migrated.
Remove duplicate data

where possible.

Duplicate data can greatly impact overall reporting and totals. This can misrepresent your core financial or operational data which can lead to critical errors in decision-making.
Restructure your data

This can be a bit more complex, but the idea here is to ensure that data structures such as the Chart of Accounts or Financial Dimensions align with where the company is at currently, or where the company will be in the future.

By restructuring the data, it can simplify the reporting output and align it with key business areas as the business may have grown, changed, or new lines of business launched.
Implement or update data governance

If data governance was not a top priority previously, now is the chance to implement standardization and security best practices around the data.

This not only protects the data but ensures that the latest data privacy rules and regulations are being followed.

This also creates the opportunity to harden data security protocols internally and externally which can help mitigate risks and reduce any data loss impacts.
How data is managed will define the underlying foundation of the business processes and the future success and health of the organization. When everyone becomes mindful of data security and management, it sets the stage for higher quality reporting and planning outcomes.
Timeline for Implementation
Many factors play into the timeline for any application implementation. As highlighted above, data readiness is a key component, but another major factor is the people involved in the process. This is not only the people within the company but the external people that the company partners with to create a successful implementation.
Having the right people from all levels and departments on board will ensure a much smoother timeline and implementation. Unexpected things can occur in any project, but by keeping the communication lines clear and the right people involved, the success rate of the implementation increases significantly.
As with the data readiness considerations, there are a few areas of consideration when it comes to the implementation timeline.
Start small or simple

Oftentimes, projects can be overly complex which can initiate early failure or creates overwhelming blockers to success.

By setting small or simple goals in place, project achievement is possible. Start with a team or department that can get their hands on the new application, understand the ins and outs, and feel comfortable in providing feedback in the migration process.

Simple goals allow people a chance to re-evaluate old processes for simplification. Another idea is that simple goals can be set for things such as a screen layout or data collection.
People + Technology = Success

As mentioned above, the right people are needed to make the project a success. By ensuring people are involved at every stage, there is a comfort level with the feedback, with the application, and with the outcomes.

People will also feel invested in the success as they are seeing how the new solutions will streamline their work.

Additionally, people can shape the critical processes needed to govern the data and application. This will impact the decisions that need to be made at every level of the organization and open lines of communication that may not have existed before.
Implementation retrospective

As part of the overall timeline, it's good to set aside time for post-implementation reflection. This establishes communication channels for future enhancements or projects surrounding the cloud ecosystem in use.

By looking back, pitfalls, gains, failures, and more can be reviewed and discussed. This paves the way for reworking shaky processes, or better-defining governance standards.

This retrospection can also shorten future project timelines and build confidence in outcome expectations.
When to Make Decisions
All people and companies make small and large decisions every day. However, the big differentiator is the quality and velocity of those decisions, the content that shapes the decisions, and the people that make the decisions. This combination is a major driver in when to make key decisions to reduce unnecessary downstream impacts.
Quality and velocity of decisions

Many people have made gut-reaction decisions that led to surprising outcomes — good and bad. However, when a high-quality decision is made it increases the success of the outcome and reduces any potential risks for failures.

But, if a decision is made too late, it doesn't matter the quality of the decision because of "analysis paralysis". The velocity of decisions is equally as important as the quality of those decisions.

As we have entered into an accelerated economy, these two key factors of decision-making impact the long-term success of companies and the industries they work within. The pace of change in technology and ideas needs to be layered into the business process foundation. This reduces the risk of playing catch-up, leading to costly changes or updates needed later.
Content shaping decisions

Having quality content available to feed into the decision-making process is critical. Additionally, the content should provide context from all different perspectives to ensure the best possible decision outcomes.

Be open to content that seems critical of past decisions or exposes new ideas and concepts. By doing this, it can redefine the decisions made which ultimately impacts the timeliness of those decisions.

Consider content that is outside the specific industries or markets served by the company. This can set the stage for thoughtful insights or unique ways to tackle tough challenges.
People making the decisions

People have been mentioned quite a bit, but this is because people play a unique role in the overall cloud migration effort. By ensuring the right people are making the right decisions, it sets in motion the downstream events throughout the project.

Empowering people to make decisions can also impact the outcomes. When key people are left out of communications or important content is withheld, people are less empowered and are more likely to make error-prone decisions.

Unless the communications or information is truly sensitive in some way, it's important to keep everything open for easy access and reference for the duration of the project.
A Critical Solution Is Necessary
While many business application solutions offer a plethora of features and functions to meet unique business needs, there are times when gaps exist. These gaps can be the defining measure that impacts the timeline of the project.
An important need for every company is the data output from the cloud systems put in place. Before migrating any system, it's important to identify a best-of-breed reporting and planning solution that will aid in the migration, check data at key points, and provide standardization in the reports used.
With all the above factors in mind, Solver has introduced a unique solution for Microsoft Dynamics 365 Business Central. The Solver QuickStart solution provides an unparalleled time-to-value with single-day deployment and immediate insights through 50+ Power BI financial dashboards that are ready to use.
The Solver QuickStart solution easily identifies the company financial configuration within Business Central down to the dimension level. This provides stakeholders with the data insights needed from a high-level aggregate view down to a detailed level.
Additionally, Solver QuickStart can be leveraged to validate the data during the migration process to ensure the beginning and ending balances match between the old and new systems.
Lastly, the out-of-the-box financial dashboards provided with QuickStart are customizable to allow companies to define their unique reporting and planning needs for their industries.
Click here to learn more about Solver, their QuickStart solution, to book a demo, or ask a question.