A Complete Guide on How to Build SuperApps with Power Platform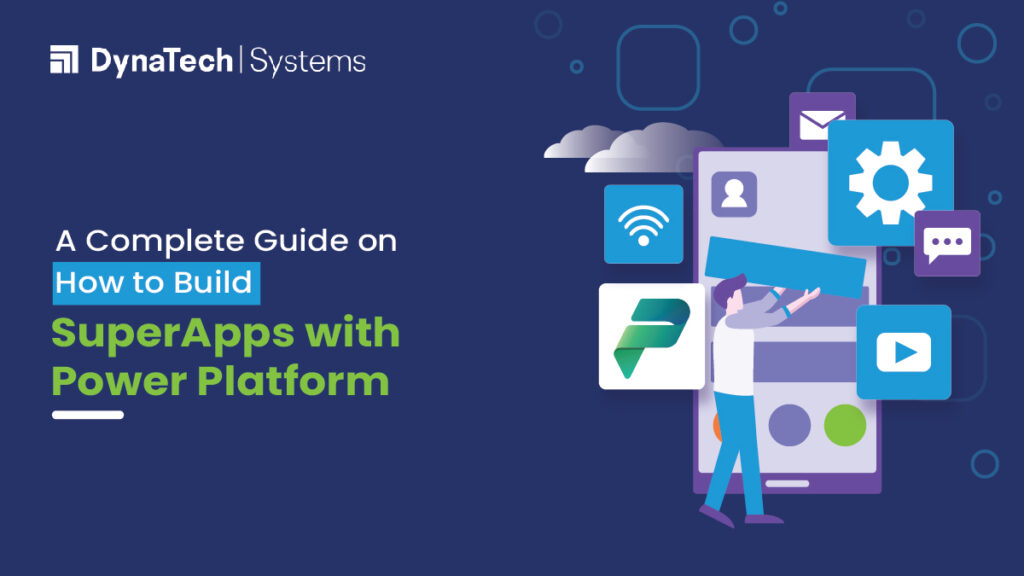 The modern-day concept of efficiency and ease in operating has given emergence to SuperApps as a current approach. This dynamic platform goes beyond traditional single-user programs and connects distinctive services into an integrated user-centered ecosystem. At the heart of the development of such SuperApps is the Power Platform – a set of tools developed by Microsoft.
Emergence of SuperApps
While modern architectural innovation is often at the heart of legacy systems modernization, there is equally promising potential for enterprises if they provide rich user experiences to their clients for their day-to-day activities.
In this case, SuperApps emerge as an essential part of the equation.
Decoding SuperApps
SuperApps can be defined as an amalgamation of core features and other mini-apps. Mainly, SuperApps offer a set of fundamental functionalities to the end users, along with access to other independently built mini-apps. Mini apps can be selected by users only to initiate uniformity and tailored app experience.
Soon, the SuperApp concept will further expand to incorporate enterprise mobile and desktop experiences. It would include workflow, messaging platforms, and collaboration.
Building SuperApps with Power Platform
In the current IT sector, SuperApp and Low Code are trending, predominant to the query – how to construct SuperApp with Power Platform? Many of the Microsoft customers have already leveraged Power Platform capabilities to construct SuperApp solutions for years with Canvas applications. It is significant to acknowledge that the occurrence of performance issues and unforeseen challenges are anticipated. Canvas Apps is not designed to cater to single, expansive applications accommodating diverse use cases and business scenarios.
The Essence of SuperApps
If the SuperApps perform highly competently, then only it can prove their mantle. Companies should adapt to the characteristics and trends of the ever-evolving customer demands.
Unified User Experience

SuperApps are not just about the services but rather an experience. By effectively utilizing the Power Apps component, design visually appealing, user-friendly interfaces that unify multiple functions in a single app.

Automation of Processes

Automate the monotonous manual tasks and streamline workflows with the capability of Power Automate. The backlogs and wait times are significantly reduced by applying this automation, therefore, providing an enriched user experience.

Profound Insights:

With Power BI, gain deep insights into user preferences, behavior, and app performance. Using this data-driven approach, companies can proficiently fine-tune their SuperApp depending on real user data.

AI-Powered User Engagement:

Power Virtual Agents can be utilized to build AI-driven chatbots. These chatbots can provide instant assistance and personalized interactions to users. Deploy these chatbots to augment user engagement and cater to users' needs 24/7.
Canvas App Hub Suite Demo Solution
This Microsoft solution performs as a "Hub" SuperApp while granting access to other vital mini-apps inside an integrated unified platform. Partners and customers can take advantage of this approach in both Desktop App and Enterprise Mobile development.
This sample solution is available on AppSource at: https://aka.ms/canvasapphub 
Features:
This extensive solution covers several development practices, concerning critical aspects:
Effective design of the Main Hub app and mini apps
Structuring Component Library within a multi-App solution
Seamless integration of multiple Canvas apps into a single mobile app package
Wrapping Up
The Canvas App Hub Suite Demo Solution is an advanced solution that comes to the rescue of businesses who plan to shape unique SuperApps solutions. Collaborate with DynaTech Systems – a Microsoft Gold-certified partner to embark on this trend and build intuitive SuperApps.