Cost Accounting Series: Get started wizard.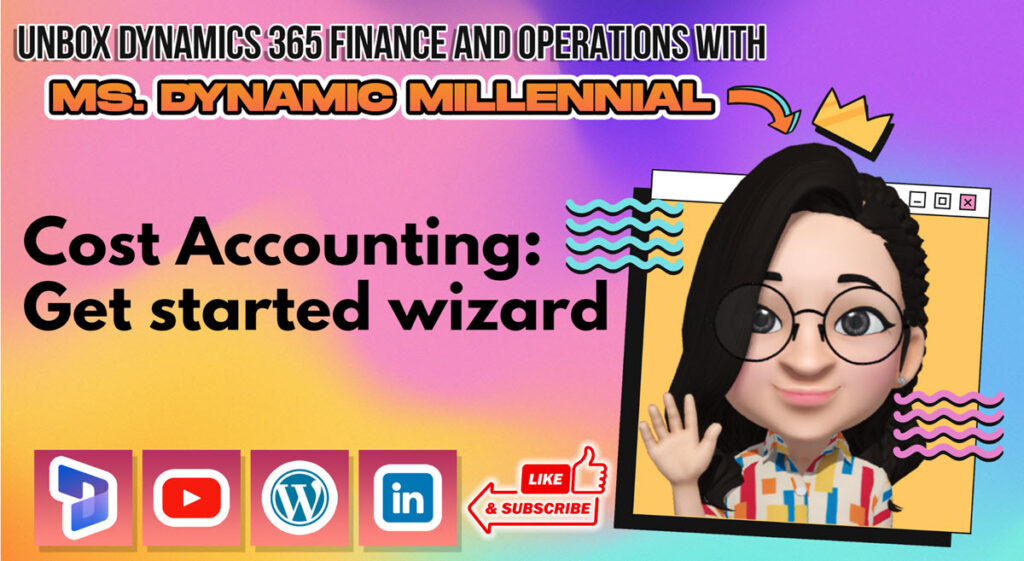 Hello D.M.-azing D365 Community!
Did you ever got the chance to work on Cost accounting module?

Yes? Wow, you are amazing! I admire you for that.

To the rest of our D.M.-azing D365 Community who have not yet encountered this module, I am on your side.

Are you ready?
What's the use or purpose of Cost accounting Get started wizard?

This wizard introduces the users to the data or dimensions (a. Cost element dimensions; Chart of account, b. Cost object dimensions: financial dimensions, c. Statistical dimensions: non-monetary entries) that we need in the Cost accounting module, and basically help us identify as well the prerequisites and configurations we need to work on this module.

Also with Get started wizard for Cost accounting, the user can create reports using the Cost control workspace.

Cost accounting Get started wizard: navigation and setup.
1. Go to Cost accounting > Setup > Get started.
2. On the Welcome screen click Next.
3. On Data connector – General ledger, select the legal entity where you want to import data to Cost accounting. Then click Next.
4. Under Cost element, the user will be allowed to select main account type of the main accounts that will be used as Cost element. By default the main account types: Profit and loss, Expense and Revenue are pre-selected.
5. On Cost accounting ledger section define here the ledger setup where the cost or statistical entries will come from. Click Next.
6. Define the financial dimension to be initially used in the Cost object section. The user can only define one using this wizard but can still be further defined under Cost accounting > Dimensions > Cost object dimensions. Click Next.
7. Under Data connector – Budget, define the budget model that you will want to be used later on the Cost control workspace. If nothing is defined yet, then toggle off Create budget data connector. Click Next.
8. Click Finish and batch job will run.
I hope that you find this article as a helpful tool for you to better appreciate and understand, everything and anything, about Microsoft Dynamics 365 for Finance and Operations.
This is Ms. Dynamic Millennial blog.
For more related articles, kindly click the below links:
https://msdynamicmillennial.wordpress.com
https://community.dynamics.com/365/financeandoperations/b/ms-dynamic-millennial https://www.youtube.com/@Ms.DynamicMillennial