The Benefits of ISV Packaged Solutions: How They Outperform Power Automate! ISV package vs power automate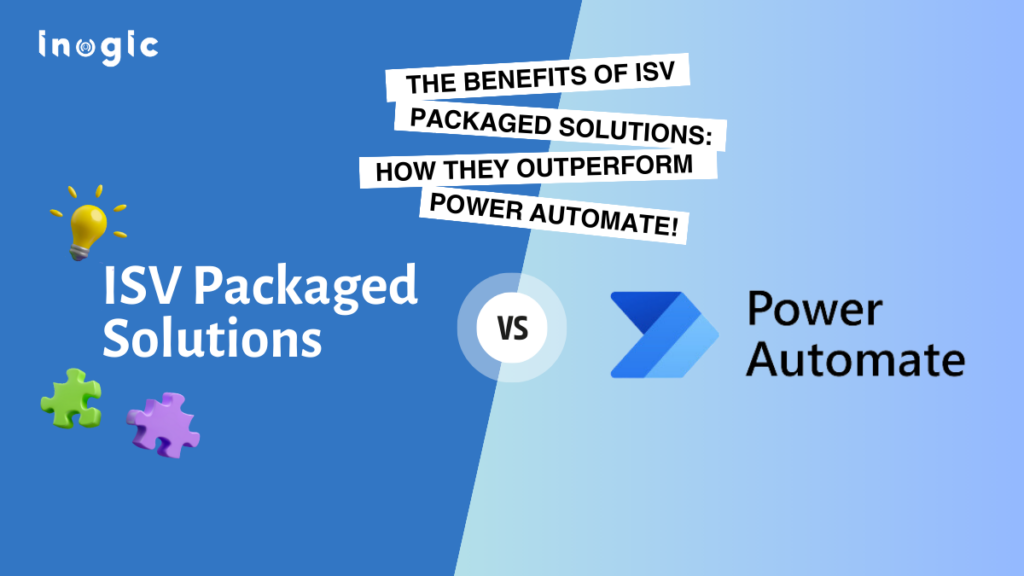 To read about limitations of Power Automate in comparison to ISV Packaged Solution check out our previous blog. In this blog we will cover advantages of packaged solution over power automate development for your business.
If you're using Microsoft Dynamics 365 CRM it might be hard for you to decide between two options i.e. whether to opt for an ISV-packaged solution or embarking on a journey of custom development to meet specific business requirements. Both alternatives come with their own set of advantages and disadvantages, and the pivotal question looms before you: which one best aligns with your unique business needs?
An ISV, or Independent Software Vendor, stands as a pivotal player in this ecosystem. These companies specialize in the development and sale of software products that find their purpose on various platforms, including Dynamics 365 CRM. Notable ISVs such as Inogic offer a diverse array of pre-packaged solutions meticulously crafted to address the common challenges and needs encountered by Dynamics 365 CRM users.
Conversely, custom development involves the creation of software from the ground up, either through skilled coding or the utilization of low-code/no-code tools, such as Power Automate. This approach caters to the specific and unique demands of your business but demands more time, resources, and ongoing maintenance compared to the convenience of pre-packaged solutions.
But no worries!
Certainly! Here's an improved version:
Here are several advantages of ISV package solutions that render them better when compared to Power Automate.
Streamlined Buying Process: Packaged solutions present a more straightforward and swifter purchasing experience compared to custom solutions. Custom solutions often involve extensive analysis, design, and development, while packaged solutions are easier to understand and acquire.
Cost and Time Efficiency: Packaged solutions generally come at a lower cost due to economies of scale and shared development expenses. Moreover, they deliver immediate value by enabling quick and easy deployment.
Reduced Uncertainty and Risk: Packaged solutions undergo testing and validation across multiple customers, minimizing the likelihood of errors, bugs, or failures. Additionally, vendor-provided support and maintenance contribute to enhanced reliability and security.
Modularity and Flexibility: Packaged solutions offer configurability and customization options, allowing them to adapt to various scenarios and user preferences. Their ability to seamlessly integrate with various systems and platforms enhances overall functionality.
Enhanced Governance, Transparency, and Predictability: Packaged solutions adhere to industry standards and best practices, ensuring compliance and quality. Clear documentation and reporting provided by these solutions facilitate effective monitoring and evaluation.
In conclusion, the decision between opting for an ISV-packaged solution or engaging in custom development using tools like Power Automate for your Microsoft Dynamics 365 CRM needs is a critical one that hinges on the unique business needs. This blog has shed light on the advantages of ISV solutions, covering their appeal in reducing costs, streamlining processes, and mitigating risks.
The simplicity of the buying process, coupled with lower costs and faster time to value, positions ISV solutions as an attractive proposition. The modularity and flexibility of ISV packages allow for seamless adaptation to various scenarios, ensuring a solution that aligns precisely with your business needs.
If you are searching for ways to improve your business operations in Dynamics 365 CRM? Feel free to get in touch with Inogic at crm@inogic.com and share your business use case.
Inogic is a leading global Microsoft Gold-partnered ISV, providing innovative solutions customized for the needs of Microsoft Dynamics 365 and Dataverse users. With a variety of offerings, ranging from their flagship application Maplytics for locational intelligence to the latest data hygiene app DeDupeD, Inogic offers more than 18 apps on Microsoft's AppSource. Explore these applications to discover the one that best fits your requirements.