5 Reasons Why your Enterprise Needs Business Central ERP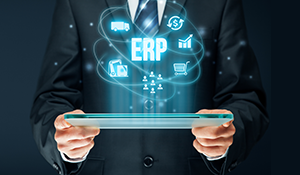 Organizations who rely on legacy or proprietary technology often receive several signs that they are outgrowing their existing technology. Yet, most continue operating their business as usual because they do not want to spend time or money in understanding the challenges or efforts in revamping or restructuring their legacy infrastructure. But using outdated systems can not only hamper business growth; it can also lead to poor employee morale which can eventually impact customer trust and loyalty. If you want to get the most out of your existing business processes and data, there is a pressing need to embrace an ERP like Business Central.
Challenges That Slow Businesses Down
There are several challenges that enterprises today face that slow them down and restrict them from achieving their business goals with speed and agility: right from disconnected systems to complex, manual processes, security and compliance concerns, integration issues, poor visibility and control, and plummeting employee productivity, among others.
According to Microsoft, 54% of organizations struggle with process and system integration issues, 50% think that creating and configuring reports is too complicated, and another 50% want to replace outdated hardware and software to enhance business performance. Here's looking at some of the most common challenges facing organizations:
Disconnected systems and siloed information make it extremely tedious and frustrating for employees to find what they need
Outdated and traditional data tools makes it very difficult to handle increased transactional data or inventory
Manual processes take up too much of employee time while being error-prone and time-consuming
The lack of the right reporting tools makes the process of report generation and analysis very complicated
Having to switch between isolated apps and systems takes a toll on employee productivity and efficiency
Poor security and compliance capabilities of propriety systems restrict organizations from moving ahead quickly while paying a high price for breaches and non-compliance
Embracing Business Central ERP
Stunted growth and poor customer and employee engagement are a clear indication that your existing systems and solutions are holding you back. Since such systems require you to spend a lot of time and energy switching between applications, looking for data across different spreadsheets, and calling stakeholders to get updates on projects, the result is sub-par and unsatisfactory business performance. A modern solution like Business Central offers a core set of capabilities across Financial Management, Sales & Service Management, Project Management, Supply Chain Management, Operations Management and Reporting & Analytics.
By enabling deep integration between different modules, this unified, cloud-based solution seamlessly connects people and process and facilitates continuous data sharing and reporting. It allows employees from different departments and locations to have access to the information they need, when they need it – while also delivering enterprise-wide visibility and control. Here are 5 reasons why your enterprise needs Business Central ERP:
1. To Improve Sales Performance
Business Central ERP allows sales teams to support the entire process from quote to cash using a single, unified platform. Using Business Central, teams can get real-time insight into current orders, past interactions, and future opportunities while also reviewing critical customer information as they create new orders. They can also ensure the changes they make to a quote is reflected across the organization, so accurate reports can be generated.
2. To Get a 360-degree View of Customers
Business Central provides a 360-degree view of customers, allowing teams to have all information of customers collected over the years in a single place: right from what they've purchased previously, where they are currently in the sales cycle, as well as what products they are most likely to buy in the future. Such holistic information allows organizations to make critical product, campaign, and inventory decisions after seeing the big picture.
3. To Boost Business Agility
With Business Central, responding to changes in uncertain times has become extremely easy. Since the integrated solution eliminates silos between systems and departments, it paves the way for seamless sharing of information between people and processes. Decision makers can have all the data they need at their fingertips and make quick and effective data-driven decisions to respond to changing business priorities.
4. To Support Remote Working
As organizations continue to reel from the long-lasting effects of the pandemic, cloud-based Business Central delivers full support for a range of mobile devices, allowing the workforce to do their work from anywhere. They can edit and share data, view status of projects or inventory, or even drive the right conversations with customers with full interaction history.
5. To Secure and Scale the Business
Business Central also empowers enterprises to plug and play modules and extend the capabilities of the solution using PowerApps or other 3rd-party solutions. Based on changing needs and business growth, they can scale the solution – without investing in additional systems. At the same time, advanced security and role-based workflows guarantee high availability and uptime as well as reliable and updated data backups – so organizations can focus on driving their business forward in a secure and scalable manner.
Make Better Decisions and Facilitate Business Growth
If you're looking to run your business end-to-end from one single place and in an efficient, and cost-effective manner, implementing Business Central is a great way to accelerate your business towards success while also optimizing your day-to-day operations. This comprehensive solution, when used as a stand-alone application or in conjunction with other Dynamics or third-party applications, can help improve sales performance, get a 360-degree view of customers, boost business agility, support remote working, and secure and scale the business – allowing you to make better business decisions, and facilitate business growth.