An all-new Avatar of Inogic Website – Enhance your Microsoft Dynamics 365 CRM experience with innovative apps!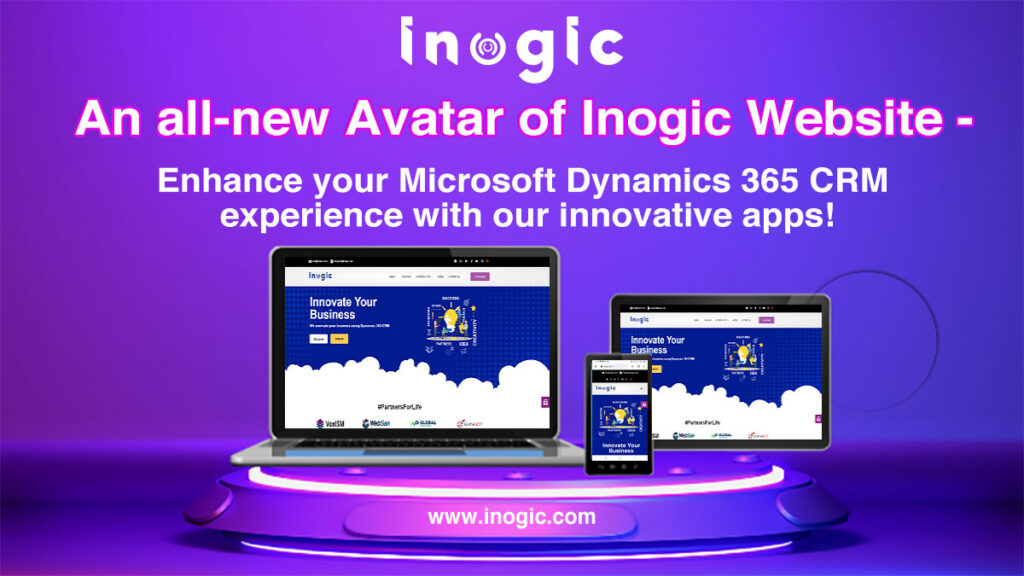 Cherishing each milestone, big or small, to keep yourself inspired to do more. Since the very beginning, Team Inogic has successfully applied this ethos to their daily work lives. The most recent milestone that we have achieved is the launch of our shiny new website.
We are ecstatic to share the release of our newly redesigned website. It is now live at the same address: https://inogic.com/.
"Our current and prospective clients will find updated and detailed information about our offerings."
The new website is designed to be faster, easier to navigate, and more user-friendly than ever before. We greet visitors with featured content that highlights our products and services and our team's excellence so that our prospective clients and partners can get to know us even better.
From humble beginnings to achieving the position of pride that Inogic holds today, it has been a result of the persistence of our Team members, Partners, and our Clients.
Inogic today is known for being a seasoned Dynamics 365 CRM Independent Software Vendor (ISV).
And being a Microsoft Gold partner with more than a decade of industry experience, we have delivered best-in-class ISV apps and services that have helped us gain the trust of more than 600 happy customers, 20,000 daily active users, and 150+ partners across the globe.
We specialize in providing productivity apps and services that enhance the user experience, visual and analytics capabilities, and performance of Microsoft Dynamics 365 CRM and Power Platform (Power Apps, Power BI, and Power Automate), enabling businesses to increase efficiency and see significant returns on their CRM investments.
Click here to learn more about us. Browse through our 15+ Microsoft AppSource preferred apps to see how we can cater to your needs!
What do we do?
We are globally recognized for our development services, consulting, customization services, and apps for Dynamics 365 CRM and Dataverse.
We are experts in providing customization for several sophisticated modules as part of our off-shore Dynamics 365 CRM / Power Platform Development Services.
We have extensive, in-depth expertise in all the customizations needed for putting real-world business processes in place across a variety of industrial verticals.
We go above and beyond to ensure that the services and products we provide are always user-friendly, trustworthy, secure, and suitable. We always attempt to put ourselves in our customers' positions and take responsibility for resolving their challenges.
As a brand, we believe that one of the best ways to create brand awareness is by having a website that can let our prospective customers find us and learn more about us and what we do.
Hence, we have a dedicated website for our services. You can visit our newly redesigned services website, which is up and running at the same address: https://www.inogic.com/services/.
Here's a quick rundown of our services.
Techno-Functional Consulting Services for Dynamics 365 CRM: Implementation and Configuration of Dynamics 365 CRM Portals (Sales, Field Service, and Customer Service), and Automation of Business Operation Flows
How do we work with our customers?
We offer to consult our customers to understand their business processes and implement them in Microsoft Dynamics 365 CRM / Power Platform. We assist with post-live support and mentor them from the beginning until they go live. We regularly collaborate with them to enhance the procedures and help them get the most return on their Dynamics 365 CRM and Power Platform investments.
How do we work with our partners?
We provide back-office services for Microsoft Dynamics 365 CRM and Power Platform partners and resellers need that extra hand to support Dynamics 365 CRM implementations.
With our back-office solution, we seek to create a partnership on an equal footing in which both partners profit from one another's skills. With the assistance of our talented development team, we assist the partners in focusing their efforts on sales and marketing while we work on the technical aspects of the project.
How do we work with our ISV partners?
We are interested in working with other ISV partners as a Microsoft Dynamics 365 CRM ISV partner to build new solutions for Power Platform, either on a time and material basis or through a partnership where both parties jointly own the IP and split revenue.
Conclusion
We at Inogic are overwhelmed with joy for having achieved such a milestone and wanted to share this happiness with our companions on this journey. With renewed fervour and excitement, Team Inogic is confidently looking forward to achieving new goals, upscaling our existing products with new features, and engaging and assisting our clients and partners thoroughly.
Please visit our website for more information and share your thoughts about the new look of our website. Thank you very much, and here's to a better future for us all!
Whether you are a client who wants to successfully implement Dynamics 365 CRM in your business or a partner who wants to collaborate with us on a project, in any case, you can write to us at crm@inogic.com.
PS. We recently also launched our brand new business process management app, Business Process Checklist, to enforce best practices within your Microsoft Dynamics 365 CRM using Checklists and Processes.